Appreciation & Performance Studies
This course provides a study of the art, craft, and business of theatre. Emphasis is placed on the audience's appreciation of the work of the playwright, director, actors, designer, producer, and critic. Upon completion, students should be able to demonstrate a vocabulary of theatre terms and recognize the contributions of various art forms. This course has been approved to satisfy the fine arts credit needed for graduation. Students will not be graded on acting, singing, dancing or designing. Students will be required to attend at least one performance per semester, and also work in the box office, as an usher or on stage crew for at least on fine arts performance per semester.
Theatrical Design & Tech Support
For the students interested in audiovisual technology, fashion design, makeup, interior design and architecture. Emphasis is placed on designing technical aspects of lighting, sound, costumes and set for all FWC fine arts department productions in the new Chapel & Performing Arts Center with state-of-the-art equipment. Upon completion, students will master design techniques and vocabulary that can translate to future careers in interested topics. Students will experience independent study during class, and opportunities for resume building with production experiences.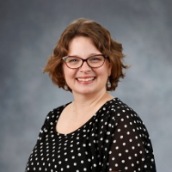 Marcia Bordelon
Theatre Director
Degrees
Bachelors

East Texas Baptist University

Masters

Texas A&M Commerce