TESTIMONY FROM A NEW MIDDLE SCHOOL PARENT
WHERE WE WERE . . .
"When we moved to Texas, we purposely picked Keller because the community was the perfect size for us and it was known to have good public schools. I'm not sure either of my kids has ever been really happy at the local schools but the schools were so well ranked that I just kept waiting for it to get better and figured that if we just waited it out, they would get the really good teachers and make good friends. However, this never really happened and it seemed that both of my kids found school to be frustrating for a variety of reasons.
ACTIONS WE TOOK . . .
My 6th grader wanted to have the in-person school experience and yet he started coming home crying about how much he hated school, begging me to let him stay home, and complaining about how alone he felt at school.... I knew that it was time to do something drastic and I need to have confidence that my son is being supported and loved at school to balance out the stress at home. I called and scheduled a tour and both my son and I walked away from our tour and knowing that Fort Worth Christian was a good fit. We had numerous staff, teachers and support staff that welcomed us and showed interest in my son. They asked him about his hobbies and after school activities and explained all of the different ways he could plug into the school. The campus is beautiful and well taken care of and the classrooms are a nice size and inviting. We went to the car after the tour. My son was smiling and asked me when he could start going to school there and told me how much he liked it.
WHERE WE ARE NOW . . .
After the first week at Fort Worth Christian, I received the weekly newsletter from the middle school. I saw a video of the middle school principal talking about finding the gifts that God has given you and being able to celebrate other people's gifts. I was very impressed by how she reminded the kids that not everyone is going to love theater, sports teams, or math competition teams and that this was totally fine if that wasn't the gift God gave you. I noticed that one of the Social Studies lessons was about the presidential election and our role as Christians living in a country that is very politically divided. It's a bit shocking at first after coming from public school when one of their classes is Bible and Discover U, where they are learning their identity from a biblical perspective.
My son loves his teachers and no longer comes home feeling frustrated and alone. He loves that he has male teachers that he can look up to as role models and will throw the football with the students during recess. He loves the passion of his science teacher that has a doctorate and taught at a university. He loves his Bible class where he is learning about all the great Old Testament stories and is excited to come home and tell me what he has learned. Private school is expensive and sending my son to Ft. Worth Christian is a financial sacrifice. However, he is changing right before my eyes. He is no longer depressed and lonely. He looks forward to school every single day and even mentions on the weekend that he can't wait for school on Monday morning. I now know that if his Dad is not feeling good or is in the hospital that my son now has teachers, nurses, principals, office staff and counselors that will give him a hug, pray with him and love on him when he needs it. Maybe we should have moved him sooner but I can say that he is so much more appreciative of this experience as he has something to compare it to. I'm so grateful that I listened to my son and was able to find a better place for him. I'm grateful that there was an opening at the school and that the staff at Fort Worth Christian determined that he was a good fit. I am excited to see how my son continues to change and to watch him grow over the next seven years. I now know that he will not only be well educated when he graduates from high school, but he will know the Bible, have a strong moral compass and know God's plan for his life that I don't think he would have figured out anywhere else.
I was extremely impressed by the principal at the middle school. She has a great personality and seems to really understand middle school students. I was extremely impressed by the new basketball coach. Wow! He seems like a great fit for FWC. Ms. Miller was spectacular showing us the school and answered every single one of my questions and emails through the admission process. My son loves all of his teachers.
My son mentioned that he has learned more in two weeks of having Science every other day than he learned in seven weeks of having class every day in public school. He loves that he has male teachers that will hang out with the students during recess and play "quarterback."
Annette Tarquinio, Keller parent of FWC Middle Schooler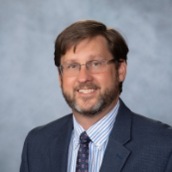 Nick Hinrichsen
Upper and Middle School Head
Degrees
Bachelor of Science

East Stroudsburg University

(1995)

Master of Education

Widener University

(1997)

Educational Specialist

Nova Southeastern University

(2003)